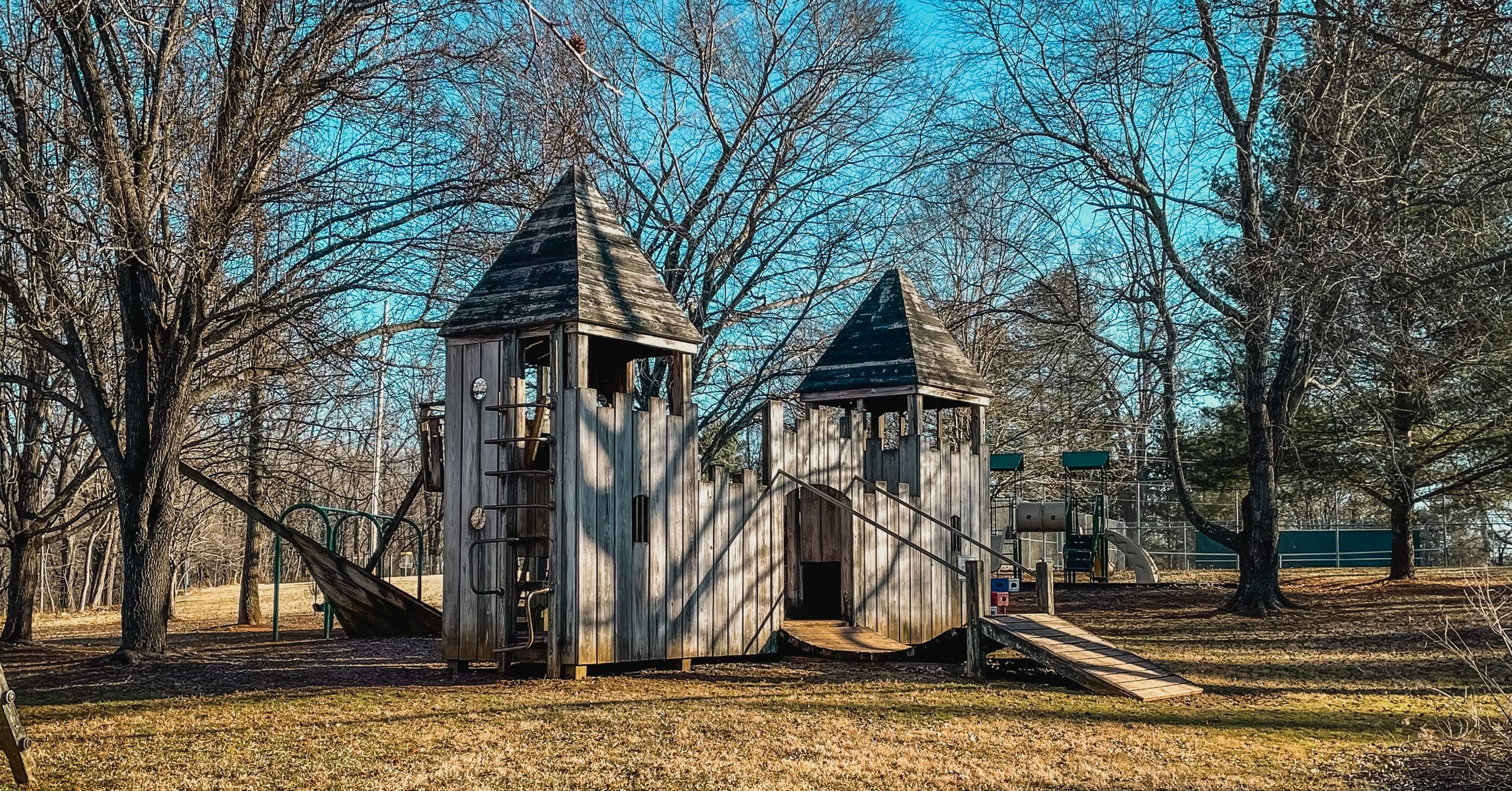 Rappahannock County Park – Washington, VA
March 27, 2022
Outdoorsy Easter Basket 2023 – Vernal Pool Inspired
February 12, 2023
Visiting Cabrillo National Monument was a bit of a drive from San Diego, but well worth the visit for the amazing coastal views up above the city.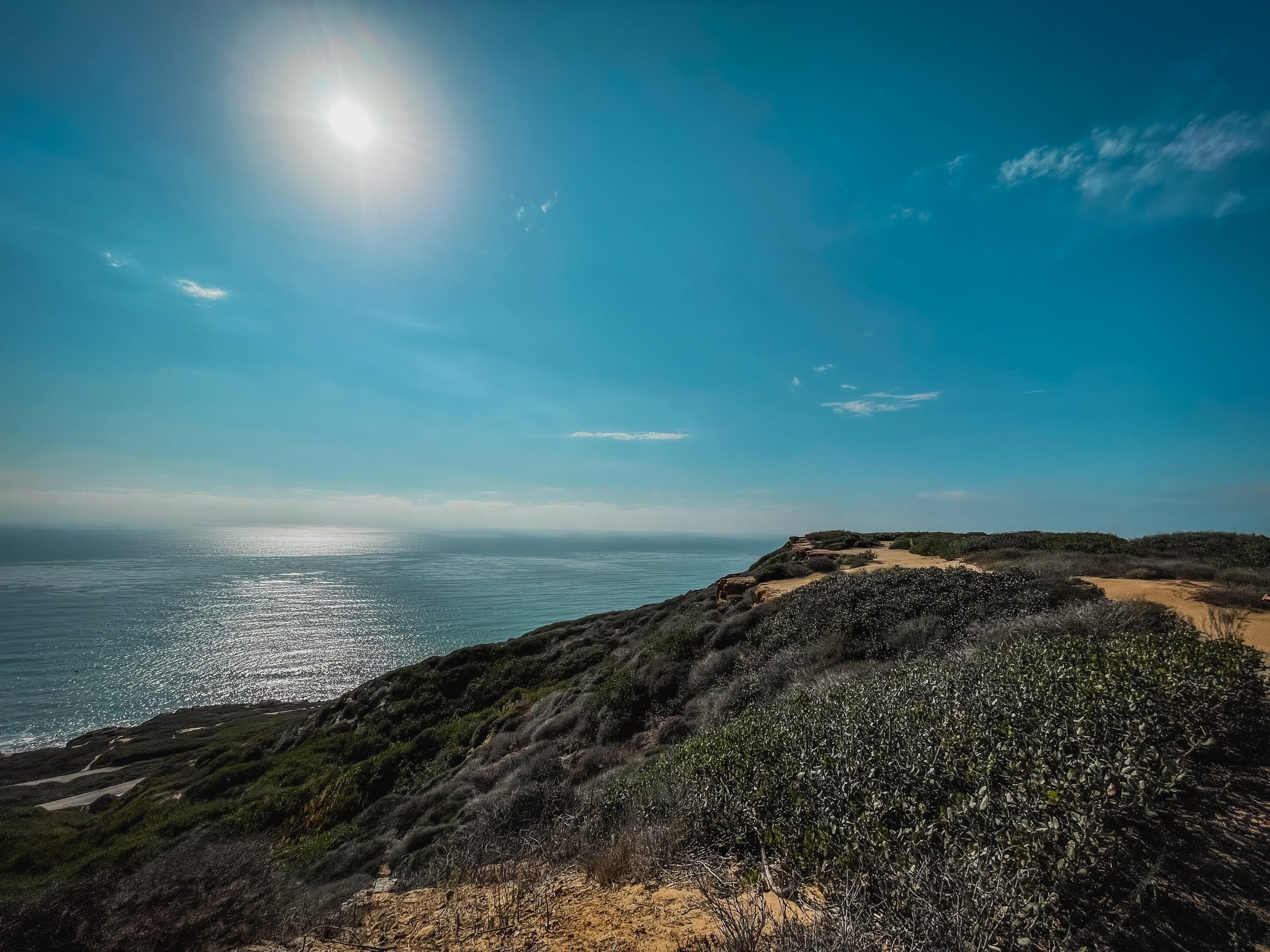 Amazing ocean views available everywhere you look at Cabrillo National Monument
Since my time in San Diego was brief, I really only got to spend a little over an hour here. I'd like to share with you a few photos that might help you decide to make the visit too and a few little things I learned that will hopefully make your visit a little easier.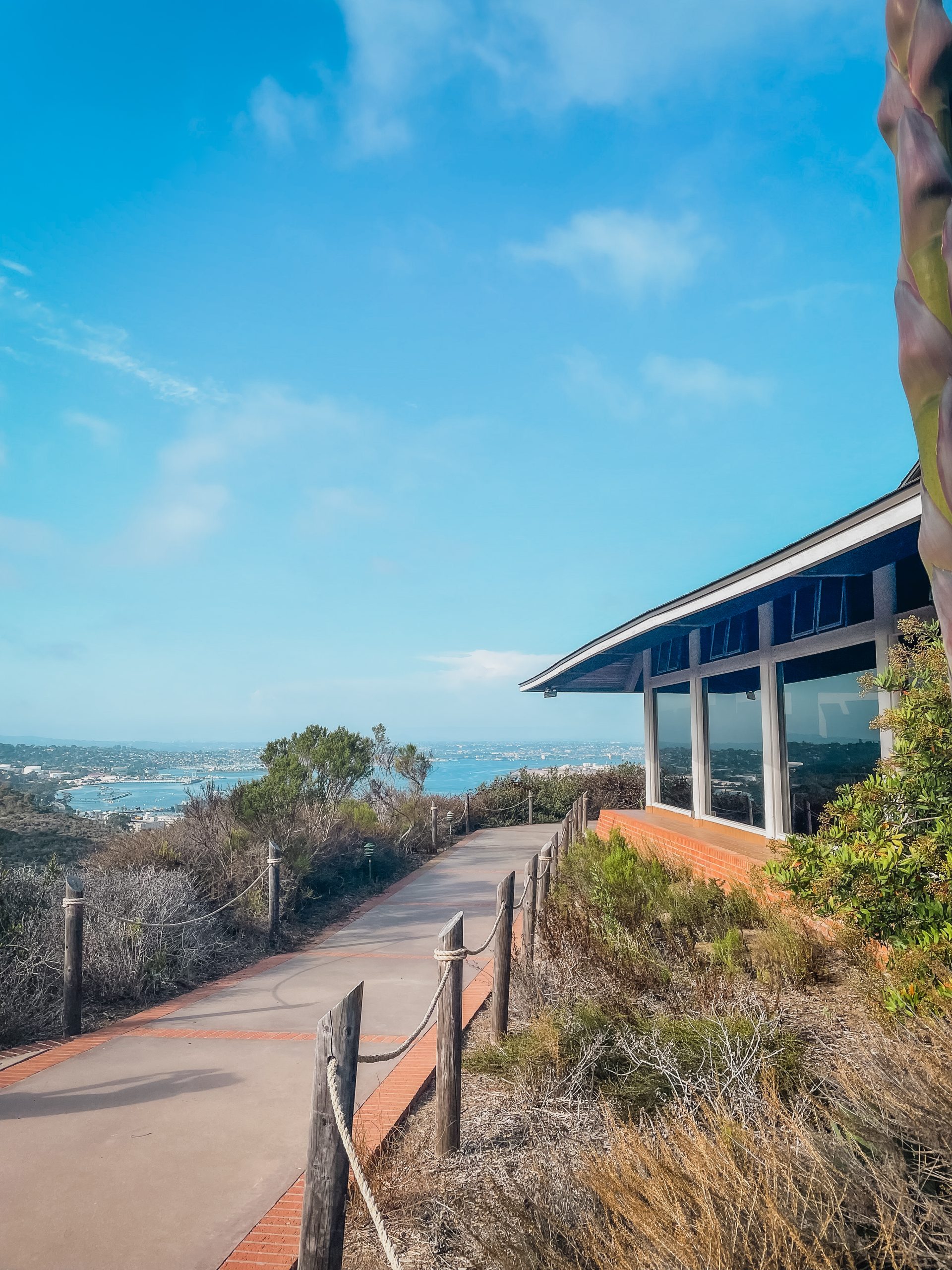 Visitor Center and Gift Shop
Juan Rodriguez Cabrillo
So why should you go?
Cabrillo National Monument is situated high above San Diego (at 422 feet above sea level) with amazing views of the ocean all around. It has a lot to do, but I really focused my brief stay at the Old Point Loma Light House, the Visitor Center and the Statue of Juan Rodriguez Cabrillo.  Most of my time was spent checking out the lighthouse and taking in the surrounding ocean views. I love a good coastal park and this was a stunner. 
I had wanted to see the tidepools but since I didn't have a car, I could not really get down there in the time I had. Also, low tide is more of a winter event at the park rather then the summer, which is when I went. Low tide during the winter happens at daylight hours... in the summer it happens when the park is closed and dark. 
Old Point Loma Lighthouse
This lighthouse was my favorite part of the park. This amazing little Cape Cod inspired structure is situated with panoramic views just a few steps away. It's a small building with a couple of historical rooms set up to view into past plexiglass. Since it's small, not to many folks can fit in at one and maneuver up the steps. But it wasn't really an issue, everyone just waited their turn. I really enjoyed checking out the small garden set up out back.  There is also a small adjacent building with a bit of a museum and you can see a lantern up close, which was cool. You can't go up the stairs to the tip top of the lighthouse. At the most you can go up to the grate below and look up at the lantern. I have an image of that below.  
Point Loma Lighthouse began it's service on November 15, 1855. But it was only in operation for 35 years. It's high elevation proved to be it's downfall. It was often obscured by clouds and fog.
In fact, in 1913 it was almost torn down but, popularity with tourists saved the day. In October of 1913, the 1/2 acre of land around the lighthouse was set aside as Cabrillo National Monument. 
The Visitor Center
First thing to know is the visitor center is that the main building/ gift shop closes one hour before the park at 4pm. The gift shop is a good little place to peruse with postcards, stickers etc. There is also a ranger to talk to inside if you'd like to.  I was able to get my postcards first before the gift shop closed and then get my park passport stamps just outside the door. (If you haven't checked out our Park Pages Collection and grabbed yourself a stamp book, you're missing out. It's a lot of fun.)
Also, this park keeps pretty tight hours from 9am to 5pm. They're pretty strict about their closing time. Which makes sense, they don't want anyone stranded there after the last bus leaves!
During the summer, the park does have extended weekend hours on Friday, Saturday and Sunday. They're open until sunset, which I bet is pretty spectacular. 
The visitor center has bathrooms and some snack machines which are outside the main building and remain open after 4pm.  I did not see a place to get a full meal in the park, so make sure to bring food with you if you're planning to be there awhile.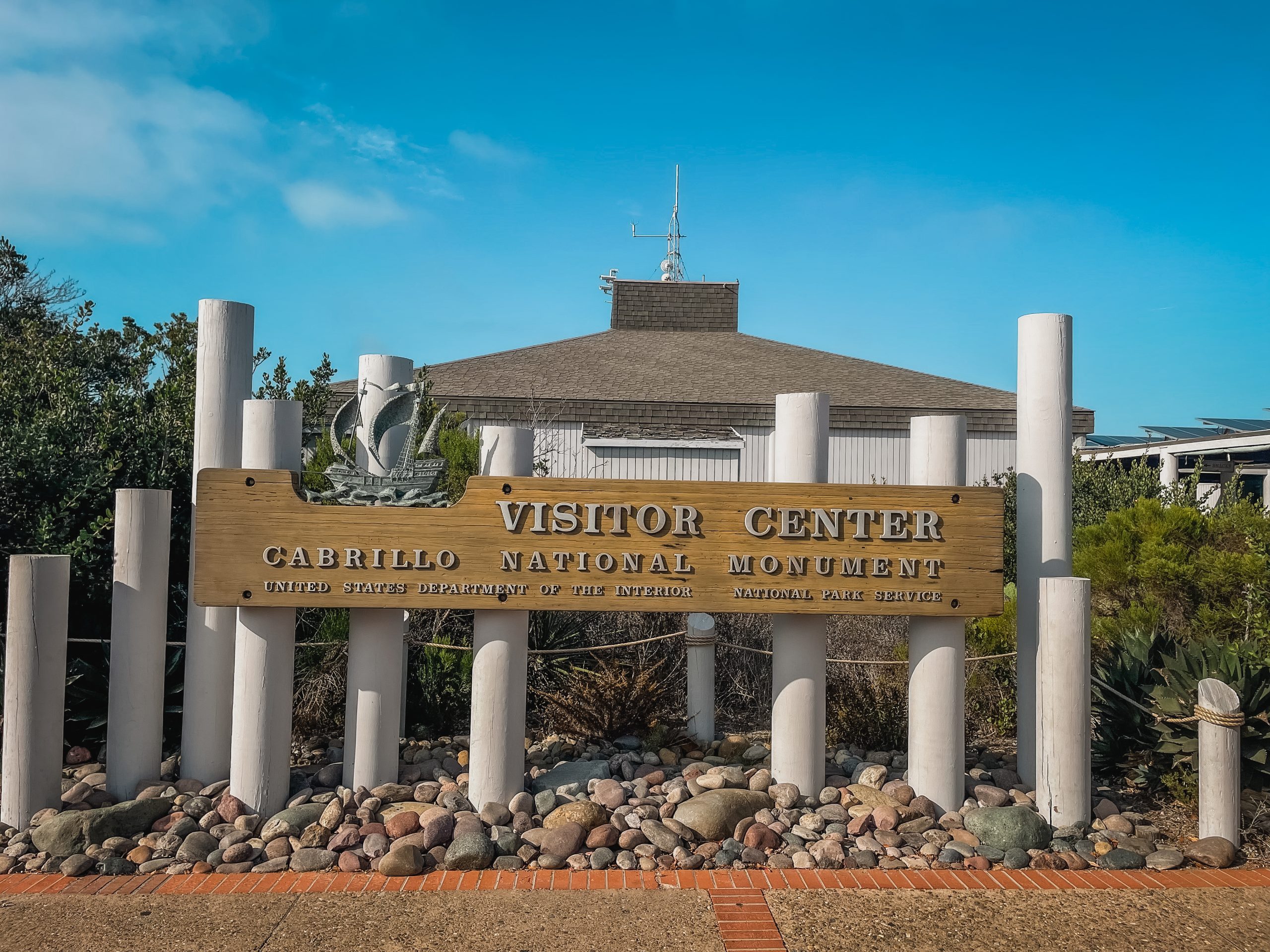 Juan Rodriguez Cabrillo
The monument is located fairly close to the visitor center. From it, you can easily see the Old Point Loma Lighthouse. In fact, most of the park's highlights are all located pretty close together. The monument is dedicated to Juan Rodriguez Cabrillo who led the first European expedition of the west coast of the United States. It is believed by historians that his flagship, the San Salvador, was anchored on Point Loma's east shore near what was to become this park!
In 1615, historian Antonio de Herrera listed Cabrillo's name as Juan Rodriguez Cabrillo Portuguese. This gave him a third last name and led many to believe he was Portuguese. But, in 2015 it was discovered by a researcher that he was a native of Spain. In 2003, a plaque was installed at the statue in both Spanish and Portuguese. 
Tips for you when you visit!
1. If you don't have a car, there is a bus stop! 
Keep in mind that you may be able to get an Uber or Lyft out there, but it's likely your return trip will get cancelled on you. The bus stop is located in the parking lot at the visitor center. Our bus driver was just the nicest guy ever. He told our bus group all about being a Navy man. Our bus group was just a 4 out of town tourists. I don't think anyone other than tourists takes the bus this far out.
This park has a hard closure at 5pm, and the last bus pick up is at 5:24pm. So if you try to get an Uber or Lyft and it gets cancelled just make sure to grab the bus before the last one leaves. I ended up taking the bus to the trolley in Old Town and then making my way around San Diego from there. The San Diego transit system even has an easy to use app called Pronto that you can put money on and use like a virtual fare card. 
2. Here's some helpful maps from the park to help you figure out the lay of the land before you get there. 
3. Keep in mind this park is a bit time sensitive with the hours only being from 9-5 and the visitor center/ gift shop closing at 4pm. It's also way out there without much around it. So bring food and water with you and plan accordingly.
Don't be nervous about taking the bus if you don't have your own car. It is much, much cheaper then a Lyft or Uber out there. (The bus ride was only $2.50.)
4. Here's a little photo below to help orient yourself before you go. You can see just how close some things are together and just how far away San Diego is!